The Mechanical Contractors Association of Saskatchewan offers a varied range of training courses for its members. Our goal is to offer members a selection of courses that will meet a variety of training needs throughout the year.
Note: Unless specified otherwise on the registration form MCAS cancellation policy states that if you are not able to attend, you may send someone else in your place. If you need to cancel, please send written notification to MCAS at least seven business days prior to the course start date for a full refund.
---
Radon and Compliance with the National Building Code
Free Lunch & Learn Session.
Click on image for more information or to register.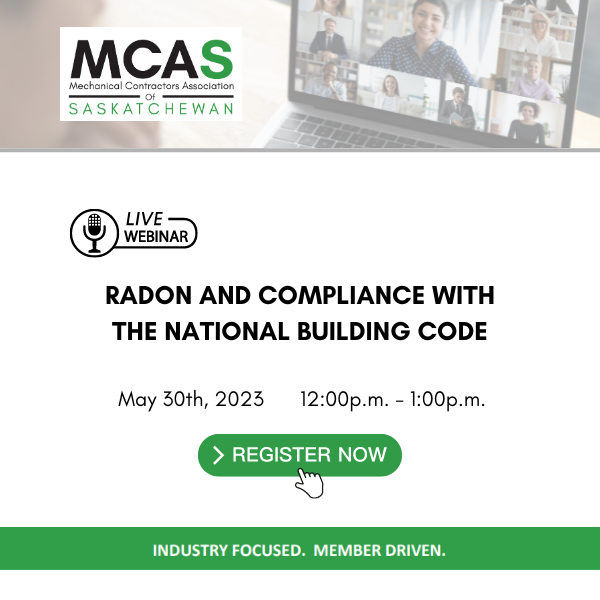 Adjudication Process: Prompt Payment Legislation
Instructor: Ryan Fredrickson
Date: February 22, 2023
Time: 8am to 12pm
Location:
TSASK Saskatoon
2213 11th Street West · Saskatoon, SK
Class maximum: 15 people
Course Overview
This 4-hour in-person session will provide insight into the adjudication process that is included in the Prompt Payment Legislation. The session will be provided by the Saskatchewan Construction Dispute Resolution Office (SCDRO).
Fees
MCAS/Merit Member: $100 plus GST
Non-Member: $150 plus GST
Registration Form
Registration deadline: February 10, 2023